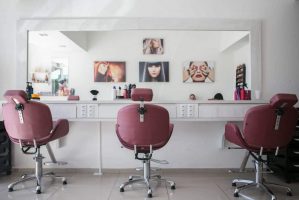 Unit 03 :
Hair and Beauty 美容美髮






Let's learn the vocabularies about hair and beauty!

1. brush /brʌʃ/
(n.)刷子
an object with short pieces of stiff hair, plastic, or wire attached to a base or handle, used for cleaning, arranging your hair, or painting
(v.) 刷;刷淨
to clean something or make something smooth with a brush
I can't find my brush, but I still have my comb.
我找不到髮刷,不過我還有梳子。
2. comb /koʊm/
(n.)梳子
a flat piece of plastic, wood, or metal with a thin row of long, narrow parts along one side, used to tidy and arrange your hair
(v.) 梳,梳理
to tidy your hair using a comb
3. hairdryer /ˈherˌdraɪ.ɚ/
(n.) 吹風機
an electrical device, usually held in the hand, that blows out hot air and is used for drying a person's hair
4. razor  /ˈreɪ.zɚ/
(n.) 剃刀,刮鬍刀,剃鬚刀
a small device with a sharp blade for removing hair, especially from the face or legs
(v.) 用剃刀剃
to cut something such as hair using a razor
5. bobby pin /ˈbɑː.bi ˌpɪn/
(n.) 髮夾
a U-shaped metal pin that is tightly bent and slides into the hair in order to keep it back off the face or to keep part of the hair in position
6. shampoo  /ʃæmˈpuː/
(n.) 洗髮精
a liquid used for washing hair, or for washing particular objects or materials
(v.) 用洗髮精洗
to wash something with shampoo
She went to the hairdressers for a shampoo and set.
她去美髮店洗頭並做頭髮。
7. conditioner /kənˈdɪʃ.ən.ɚ/
(n.)護髮素
a thick liquid that you put on and wash off your hair after you have washed it, to improve the quality and appearance of your hair
8. hair gel /ˈher ˌdʒel/
(n.) 髮膠
a thick liquid substance that is put in hair to help the hair keep a particular shape or style
9. scissors /ˈsɪz.ɚz/
(n.) 剪刀
a device used for cutting materials such as paper, cloth, and hair
10. hairstylist /ˈher.staɪ.lɪst/
(n.) 髮型師
someone whose job is to cut and arrange people's hair
I've been going to the same hairstylist for years.
多年來我一直請同一個髮型師設計髮型。

Share with your Tutor.
What are these men's career?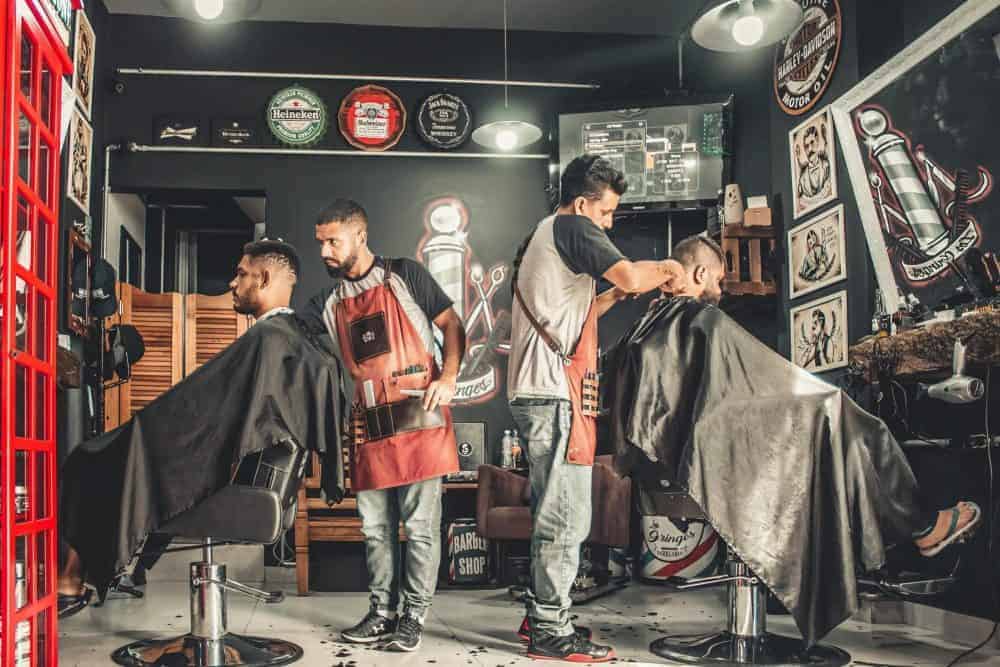 11. bob /bɑːb/
(n.) (女生)齊耳短髮,鮑勃頭
a women's hairstyle with the hair cut to neck length all around the head
I've had my hair in a bob for ages.
我留短髮已經很長時間了。
12. ponytail  /ˈpoʊ.ni.teɪl/
(n.) 馬尾辮
a hairstyle in which the hair is tied up high at the back of the head so that it hangs down like a horse's tail
13. ringlet /ˈrɪŋ.lət/
(n.) 長鬈髮
a curled piece of long hair
Her hair hung down in ringlets.
她長長的鬈髮垂在肩上。
14. plait /plæt/
(n.) 辮子
a length of hair or other material that is divided into three parts that are then crossed over each other in a special pattern
(v.) 把…編成辮
to join three or more pieces of hair or string-like material by putting them over each other in a special pattern
She usually wears her hair in two plaits.
她通常紮著兩條辮子。
15. curly /ˈkɝː.li/
(adj.) 鬈曲的,捲曲的
having curls or a curved shape
He has blond, curly hair.
他有一頭金色鬈髮。
16. pigtail /ˈpɪɡ.teɪl/
(n.) 辮子;髮辮
a length of hair that is tied at the back of the head or at each side of the head, sometimes in a plait
A little girl in pigtails presented the bouquet.
一個紮著辮子的小女孩獻了花。
17. crew cut  /ˈkruː ˌkʌt/
(n.) 平頭,板寸頭
a hairstyle in which the hair is cut very short
18. bald /bɑːld/
(adj.) 禿頭的
with little or no hair on the head
At 20 he was already going bald.
他20歲就開始禿頭了。
19. bun /bʌn/
(n.) 圓髮髻
a woman's hairstyle where the hair is brought together into a round shape at the back of the head

She wore her hair in a bun.
她將頭髮挽成一個圓髮髻。
20. flattop /ˈflæt.tɑːp/
(n.)平頭(髮型)
a short hairstyle, usually for a man, in which the hair is cut so that the top of the head seems flat

Ask your student about which hairstyle you've learned from the class.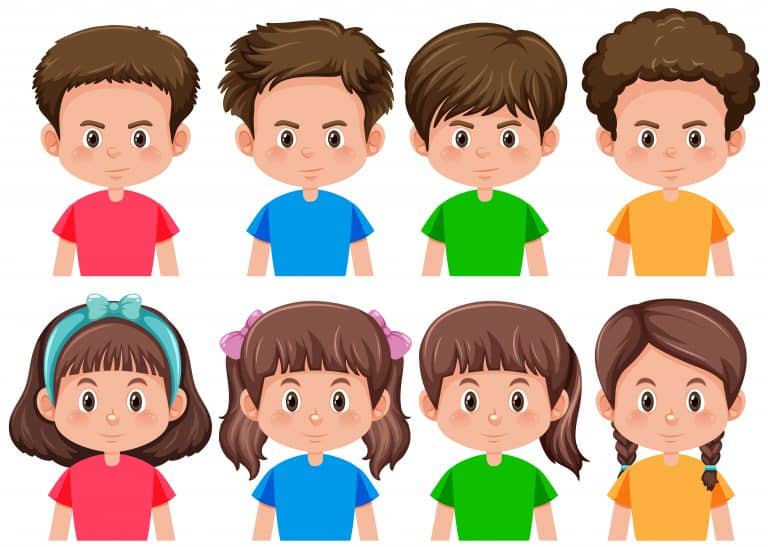 21. manicure /ˈmæn.ə.kjʊr/
(n.)修指甲;指甲護理
a treatment for the hands that involves making the skin feel softer and making the nails look better by cutting, smoothing, and painting them
22. exfoliation /eksˌfoʊ.liˈeɪ.ʃən/
(n.)去角質
the process of removing dead skin cells from the surface of the skin, in order to improve its appearance
She recommends gentle exfoliation before moisturizing.
她建議在保濕療程之前先做去角質的護理。
23. massage /məˈsɑːʒ/
(n.) (v.)按摩,推拿
to rub and press someone's body with regular repeated movements, in order to relax them or to reduce stiffness or pain in the joints
Would you massage my shoulders?
你能按摩一下我的肩膀嗎?
24. treatment /ˈtriːt.mənt/
(n.) 治療,修護
something you buy or keep to help you remember a holiday or special event
25. facial /ˈfeɪ.ʃəl/
(adj.) 面部的,臉上的
of or on the face
(n.) 面部美容護理
a beauty treatment that cleans and improves the skin of the face with creams and gentle rubbing
Beauty treatments range from an eyelash tint at £8 to a deep cleansing facial costing £80.
美容護理服務價格不一,包括收費8英鎊的染睫毛和收費80英鎊的面部深層清潔。
26. scrub /skrʌb/
(n.) (用來清潔皮膚的)磨砂
a substance that you use to clean your skin and make it softer, especially one that is slightly rough and will remove old skin
(v.)  (尤指用硬刷、肥皂和水)擦洗,刷洗
to rub something hard in order to clean it, especially using a stiff brush, soap, and water
exfoliating facial scrubs
去除面部死皮的磨砂膏
27. sunblock /ˈsʌn.blɑːk/
(n.) 防曬霜,防曬油
a strong type of sunscreen
28. repair /rɪˈper/
(v.) (n.) 修補;修復
to put something that is damaged, broken, or not working correctly, back into good condition or make it work again
29. waterproof /ˈwɑː.t̬ɚ.pruːf/
(adj.) 防水的,不透水的
a person who has magic powers in stories, or who performs tricks for entertainment
(n.) 防水衣,防水服
a coat or other clothing that keeps you dry because it does not allow water in
30. hydration /haɪˈdreɪ.ʃən/
(n.)(身體)補水過程
the process of making your body absorb water or other liquid

hair care products for conditioning and hydration
養護頭髮補充水分的護髮產品

Match the correct meaning to each vocabulary.
sunblock __   2. exfoliation __   3. facial __   4. scrub __   5. hydration __
a) the process of removing dead skin cells from the surface of the skin, in order to improve its appearance
b) to rub and press someone's body with regular repeated movements, in order to relax them or to reduce stiffness or pain in the joints

c) a beauty treatment that cleans and improves the skin of the face with creams and gentle rubbing

d) a strong type of sunscreen

e) the process of making your body absorb water or other liquid