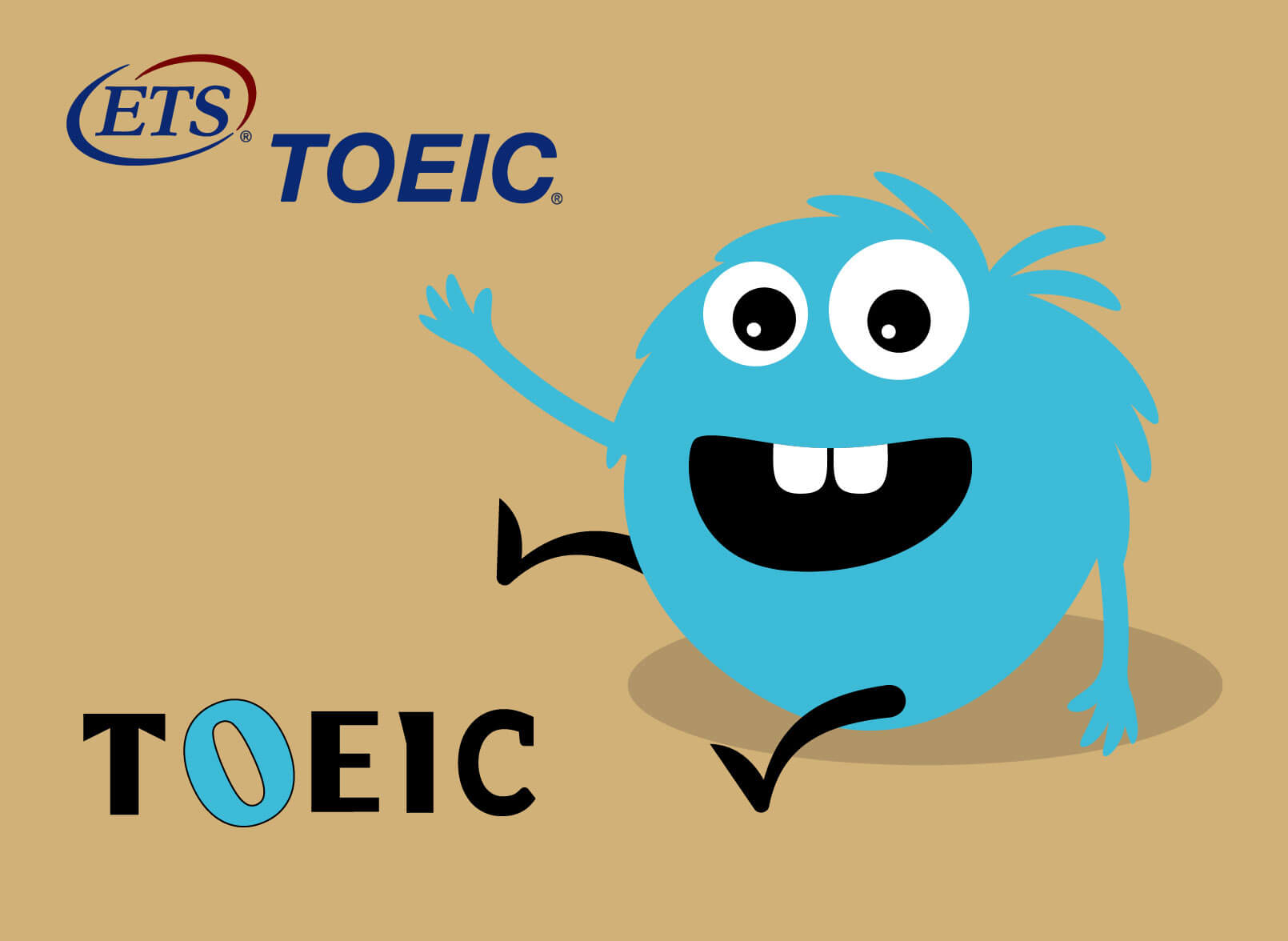 TOEIC 12-2
Speaking Mock Test

Pre-advanced
This unit will cover tasks 7-11 of the 11 tasks in the TOEIC Speaking Test.

Questions 7–9:
Respond to questions using the information provided
Directions: In this part of the test, you will answer three questions based on the information provided. You will have 45 seconds to read the information before the questions begin. 
For each question, begin responding immediately after you hear a beep. 
No additional preparation time is provided. 
You will have 15 seconds to respond to Questions 7 and 8, and 30 seconds to respond to Question 9.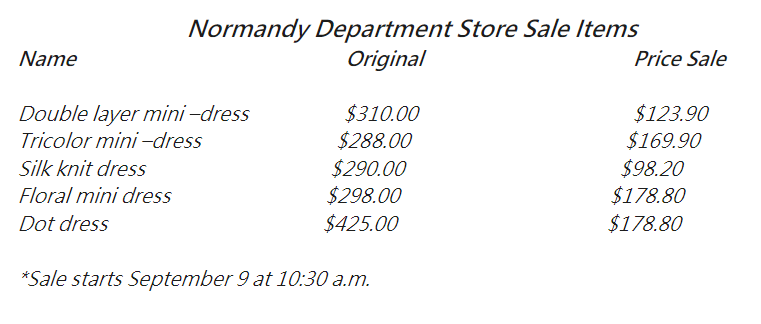 Response time:15 seconds
Question 7:
What are the items that are mainly on sale?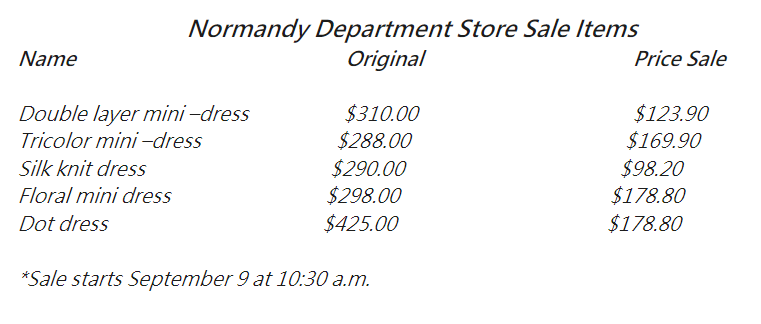 Response time:15 seconds
Question 8:
Are pants also on sale?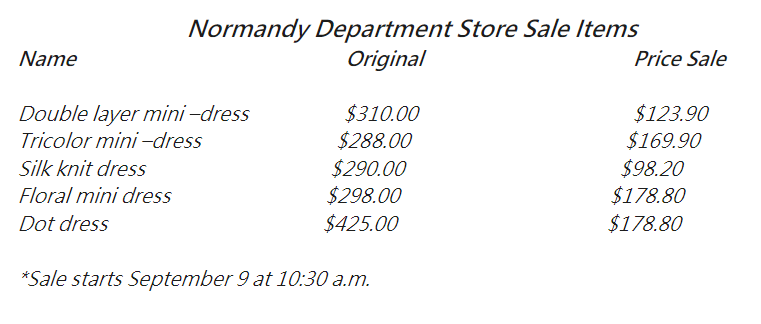 Response time:30 seconds
Question 9: 
My shopping budget is four  hundred fifty dollars. What can I purchase with this budget?

Question 10: Propose a solution
Directions: In this part of the test, you will be presented with a problem and asked to propose a solution. 
Preparation time: 30 seconds
Response time: 60 seconds
Respond as if you work at the shop.
In your response, be sure to
show that you recognize the problem, and

propose a way of dealing with the problem.
(Narrator):
Hello. This is Gregory Peck. I ordered a queen size bed frame with a mattress from Idea Furniture store on June 4th, and I paid the full amount on the spot with a credit card. At that time, your store manager was friendly and helpful. I asked him to deliver the furniture by Friday the week after, June 17th. On Wednesday, I got a voice message from your warehouse confirming the delivery on Friday, June 10th. I returned the call and said the delivery date was incorrect and that I had requested this furniture to be delivered not this Friday but next Friday. The customer support person said that the delivery date could not be changed and I will be charged additional $100 for rescheduling the delivery. I told her the additional charge is unfair because I requested for the furniture to be delivered next Friday in the first place. She repeated in a rude manner that she doesn't have the authority to reschedule. I ended the conversation and then made another call to cancel the entire order. I submitted a cancellation request form with the complaints in details. However, my credit card statement still shows the charge for the furniture. I am losing my patience with your company, and I want you to call me immediately at 123-456-7890.

Question 11: Express an opinion
Directions: In this part of the test, you will give your opinion about a specific topic. Be sure to say as much as you can in the time allowed. 
Preparation time: 15 seconds
Response time: 60 seconds
(Narrator):
Some people think that cell phones make children safer, and others think that cell phones make them more unsafe. Do you agree with the idea that children under the age of 12 should be allowed to have cell phones?
If yes, why? If not, why not?
Resource: TOEIC® tests 
https://content.cambly.com/category/test-prep/toeic-speaking/page/2/