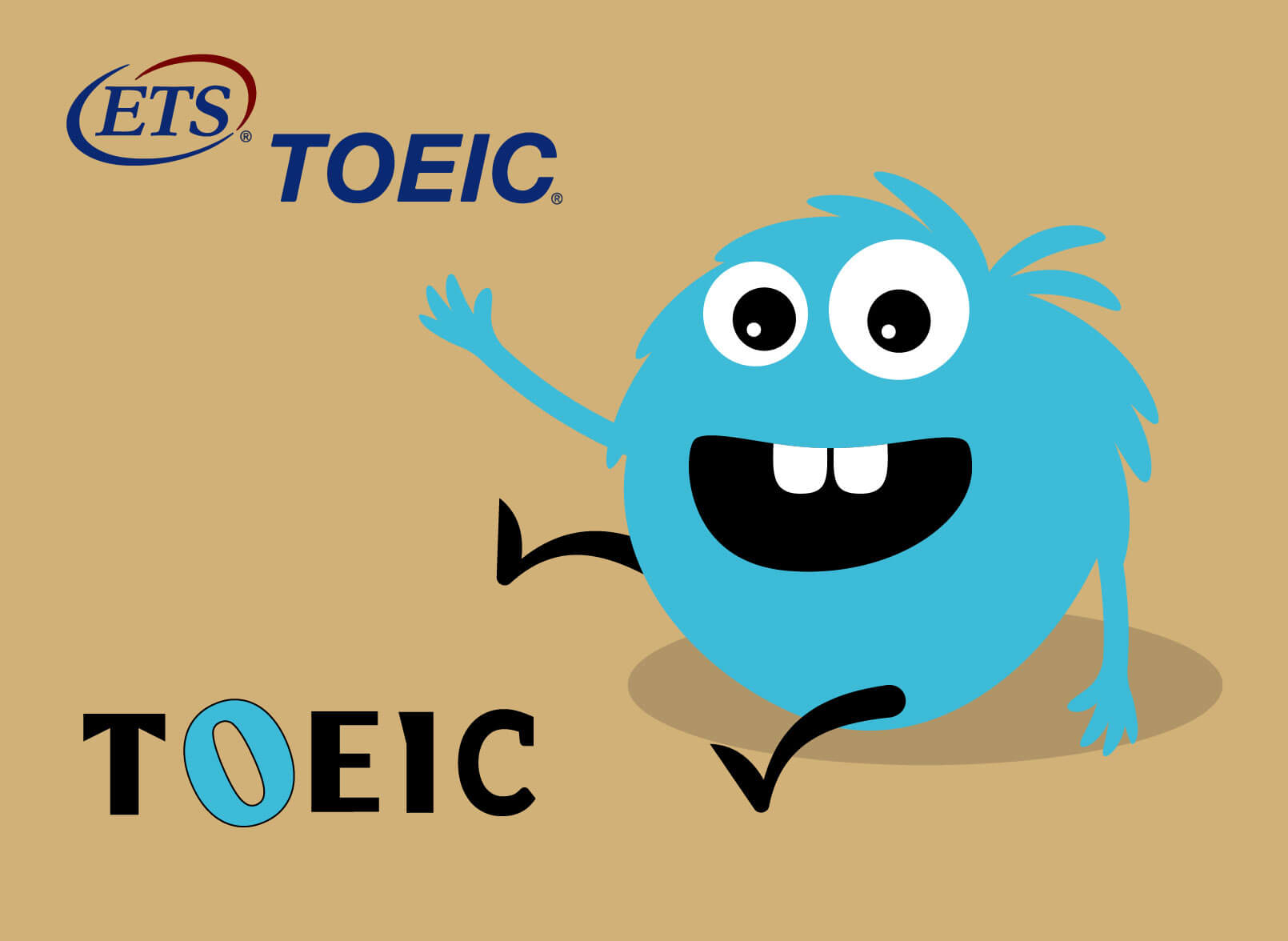 TOEIC 15-2
Speaking Mock Test

Pre-advanced
This unit will cover tasks 7-11 of the 11 tasks in the TOEIC Speaking Test.

Questions 7–9:
Respond to questions using the information provided
Directions: In this part of the test, you will answer three questions based on the information provided. You will have 45 seconds to read the information before the questions begin. 
For each question, begin responding immediately after you hear a beep. 
No additional preparation time is provided. 
You will have 15 seconds to respond to Questions 7 and 8, and 30 seconds to respond to Question 9.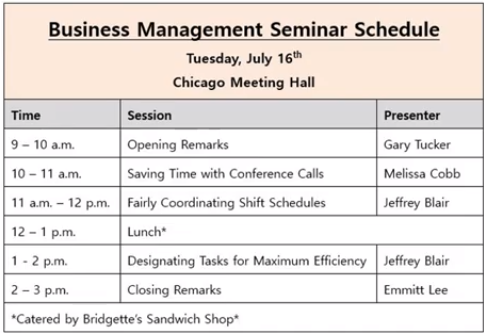 Response time:15 seconds
Question 7:
When will the seminar begin and end?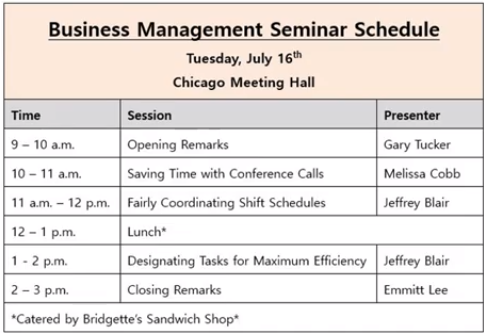 Response time:15 seconds
Question 8:
Someone told me that Emmett Lee will talk about Saving Time with Conference Calls. Is that right?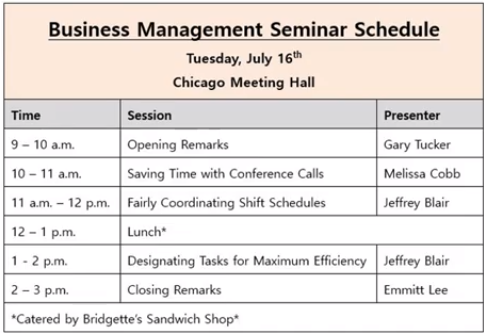 Response time:30 seconds
Question 9: 
Which sections are supposed to be led by Jeffrey Blair?

Question 10: Propose a solution
Directions: In this part of the test, you will be presented with a problem and asked to propose a solution. 
Preparation time: 30 seconds
Response time: 60 seconds
Respond as if you work at the shop.
In your response, be sure to
show that you recognize the problem, and

propose a way of dealing with the problem.
(Narrator):
Hello. This is Thuc. I heard that you are in charge of the event held in Spain.However, there is a problem. Because you don't have the right person who could speak Spanish and deliver the speech at the event. So, you would like to get some help with this matter.
Well, first of all. I am sorry to hear about this situation. However, I am happy to say there is a way to help you out. After looking into the situation, I came up with the following suggestions.
First of all, I think it is a good idea to get recommendations from other people. That should be possible.
Moreover, why don't you try to train the guy who could speak Spanish? That could be possible too.
Well, those are my suggestions. If you need more help, feel free to call me back at any time. Bye.

Question 11: Express an opinion
Directions: In this part of the test, you will give your opinion about a specific topic. Be sure to say as much as you can in the time allowed. 
Preparation time: 15 seconds
Response time: 60 seconds
(Narrator):
Nowadays, people read less than they used to in the past. Back up your response with specific details.
Resource: TOEIC® tests 
https://thucduong.video.blog/2019/06/08/toeic-speaking-actual-test-01-2019/